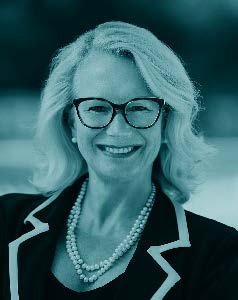 BY CATHERINE BROWNLEE, PRESIDENT OF ALBERTA ENTERPRISE GROUP (AEG), CALGARY AND EDMONTON CHAPTERS
Summer has passed, the leaves have changed and winter is just around the corner. Canadians always greet this news with trepidation, and understandably so. Acceptance, however, follows the initial shock to the system and requisite acclimatization and we marvel at the season's unique beauty and partake in its many recreational activities.
Edmontonians have long relied on fresh air and exercise to chase away the seasonal blues during our long, cold, dark winters. Nestled in the heart of the city lies one of the city's oldest and most popular recreation destinations. For the past 112 years, the Edmonton Ski Club (ESC) has served as a hub
for community and outdoor recreation (skiing in the winter and, in recent years, mountain biking in the summer).
Founded in an entrepreneurial spirit and sustained all these years by dedicated volunteers, the organization has managed to deliver a lot with very modest facilities. But in hopes of generating even more opportunities for people to enhance their wellness and pursue their love of athletics and new adventures, ESC's board and volunteers set their sights on the
future. ESC has new plans for a state-of-the-art, sustainably designed outdoor activity centre that will allow it to better serve the community for decades to come.
The benefits of this shovel-read project will be myriad. During construction, the River Valley Outdoor Activity Centre will employ 30 to 35 skilled tradespeople. Once up and running, it will employ over 110 young workers, primarily between the ages of 16 and 30. It will also allow for the delivery of more than 2,000 recreation and instructional opportunities free of charge to vulnerable populations year-round while generating opportunities for Edmonton small businesses through purchasing local goods and services, supporting local art and music and hosting world-class events.
To transform the project from a vision on blueprints to a bricks-and-mortar reality, however, the club needs partners to step forward and support its vision for a new community hub. The municipal government has committed $4.8 million, while Ottawa has promised to kick in another $6.7 million. The final piece of the funding puzzle is the province.
In addition to its undeniable health and economic benefits in the immediate term, the Centre will enhance Edmonton's competitiveness in the long-term. There is a mounting body of research demonstrating how quality-of-life amenities help
attract young professionals, skilled workers, and families. What's more, the Edmonton Ski Club is a valued partner to several local community organizations that support the vibrancy and social fabric of our city. From the Edmonton Folk Music Festival held annually on ESC's grounds to the
free after-school programming offered in partnership with Free Play for Kids to the subsidized family ski days with the Indigenous Sport Council of Alberta, ESC is genuinely an amenity for all.
By bolstering the infrastructure of ESC, we directly benefit the essential community-building organizations that gather on the hill 365 days a year.
Providing Albertans with opportunities to improve their mental and physical wellness while creating healthy and lively communities is always a winning proposition. With winter's frigid embrace, it's comforting to know we can rely on the Edmonton Ski Club and the city's other recreation facilities to
support us in the coming months.